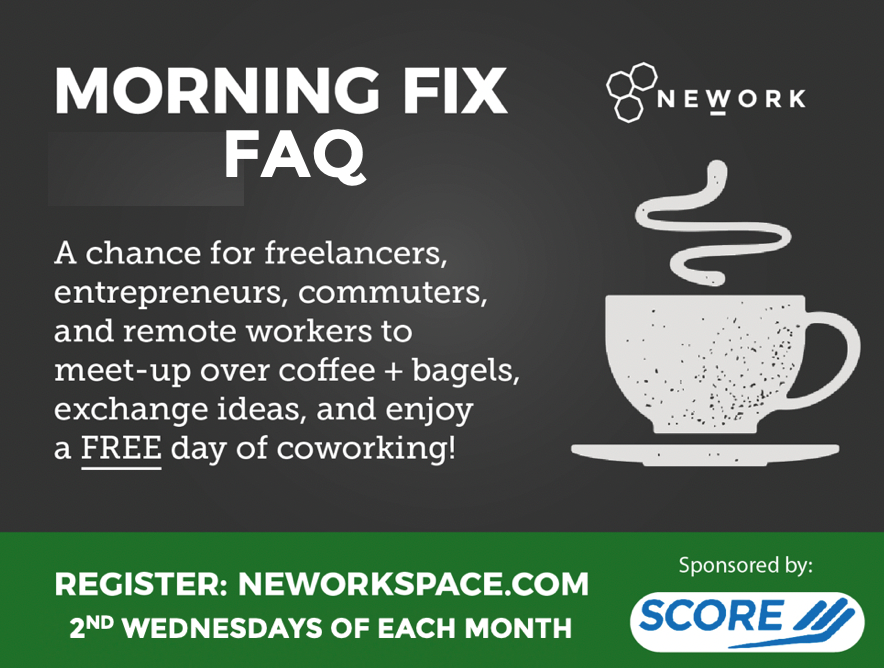 What is this exactly? Morning Fix is a free monthly meetup for freelancers, remote workers, artists, solopreneurs, and [insert your genre-bending job here]. We eat breakfast, get to know each other, and have a roundtable discussion about topics that matter to us.
What do you talk about? The topics change from month to month, and we include that info in each event description. We rely on feedback from attendees, because we really want this to be YOUR event. Do you need some input on a specific aspect of your business? Ask us to make it a future topic!
How do I find you? NEWORK Space is located at 14 N. Park Place on the square in downtown Newark. We're on the north side of the square between Goumas Candyland and Park Place Bistro.
I've heard parking on the square is the worst. Untrue! Who told you that? Parking is abundant and free. The on-street parking right on the square is limited to two hours, but there's a parking garage at 2nd and Canal St., a surface lot at 3rd and Market, and some 11-hour on-street parking around the DoubleTree Hotel--all free.
Do I have to be a member of NEWORK Space to attend? No. All are welcome whether you are a member of the space or not. In fact, it's a great way for non-members to try out the space and get a taste of what coworking is all about (It tastes a lot like snacks and coffee and lightning-fast WiFi and friendship).
Do I have to be a freelancer to attend? No. Our goal is to bring together professionals in our community that otherwise might not have a chance to find each other. Our past attendees are a diverse bunch: designers, writers, coaches, salesmen, web developers, small business owners, aspiring small business owners. You name it. We invite anyone who finds value in open, honest discussion with other professionals on a diverse range of topics.
Sounds interesting, but will it add value to my own business? Will I learn something? You know the old folk tale about stone soup? You start with some boiling water, throw in some stones, and then everyone adds some vegetables. Pretty soon, you have a delicious soup. Morning Fix is like that. Everyone brings their unique challenges, questions, and experience to the table, and we all go away with something to chew on. It's the coworking way: everything's better when you do it together.
You haven't answered my specific question. Email [email protected] with all your Morning Fix questions, comments, and musings. We'll respond quickly because that's what we do. Looking forward to hearing from you!