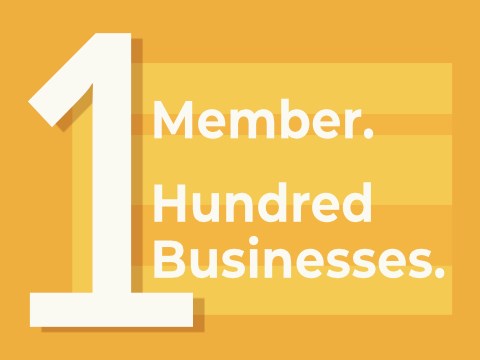 One member. 100 businesses.
When NEWORK Space opened its doors in 2017, East Central Ohio SCORE signed up as one of its first members. A volunteer organization that provides education and mentorship to help businesses get off the ground, grow, and reach their goals, SCORE had been operating without a permanent space of its own.
Jerry Besanceney, SCORE Chapter Chair President, explains. "Until NEWORK Space, SCORE didn't have a concrete footprint in the community. We met clients in a conference room at a local non-profit. We were in borrowed space without our own address. This made functions difficult. SCORE clients had a hard time finding us.
"Joining NEWORK Space meant incurring a cost. We raised the money. We've been here over two years, and it's been well worth it."
Asked to explain further, Besanceney notes several benefits.
"First of all, we now have a permanent address. We have a real estate location where we can sit at a table with one or two clients, or host training for 50 people.
"The building and its furnishings say, 'modern business.' Everything here conveys substance and permanence. This helps to build confidence for startups and existing businesses who come to SCORE for assistance.
"It's an easy-to-find, convenient location in the middle of town. That makes it easy for clients to find SCORE. We hold regular office hours on Tuesdays. But even when we're not here, because it's not Tuesday, people can find us. They can see that we're real."
That other businesses and organizations have office space or hold meetings at NEWORK Space has also benefitted SCORE clients.
Jerry tells the story of coaching a mentee one day while Brendan Underwood, VP at North Valley Bank (and NEWORK Space member), worked at a nearby desk. Jerry asked Brendan to give his opinion on some reporting fees his client had incurred. A few weeks later, that informal contact resulted in a business relationship between Jerry's mentee and North Valley Bank.
"That's a partnership that would never have happened if we weren't together in this space," Jerry comments.
SCORE of East Central Ohio has a Dedicated Desk at Nework Space. That means they have their own desk with a lockable file cabinet and free meeting room time. They can leave their things and have a permanent address in an inviting and easy-to-locate space. As a result of their new home and energized members, SCORE of East Central Ohio has expanded its impact. In the past fiscal year, SCORE mentors assisted more than 100 new or existing businesses—almost double the number of clients served in previous years. And expanded impact means economic growth.