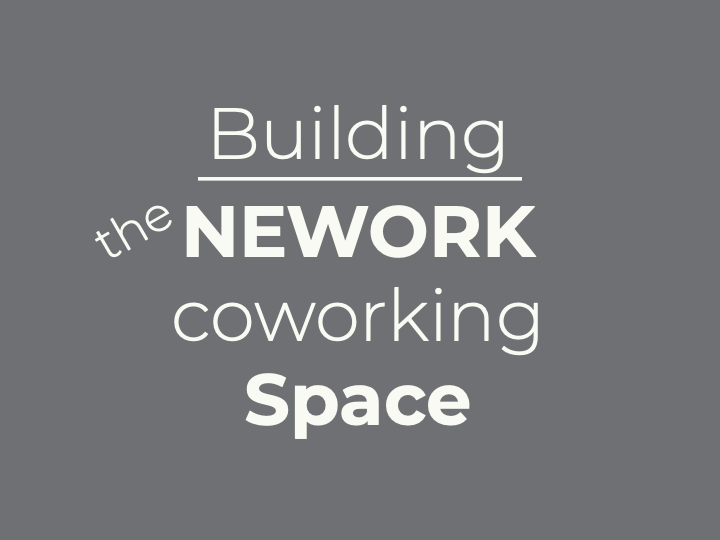 The extensive renovation project of NEWORK Space, a coworking Space, taught our team a lot. We have learned (the hard way) that construction and black slacks do not work well together. Unless you intend to audition to be a chimney sweeper in the local production of Mary Poppins, you better bring an extra pair of pants. But construction also enlightened our team on the rich history of the Park Place building. The retro wallpaper, detailed architecture and gambling board that decorates the stairway are just some examples that indicate that NEWORK Space is just one of the many tenants that have resided in this historic location.
NEWORK Space has new businesses, talented entrepreneurs and professional freelancers.
But who and what used to reside in this exceptional location? From what we can gather, 14 N. Park Place has housed several retail businesses since the late 1800s, including a shoe store and antique shop. We also discovered that the local motel once used the building's third floor to accommodate overflow guests. The building's central location and convenient proximity to the Licking County Courthouse have made Park Place an ideal location in the past and continue to provide NEWORK with the space needed to promote community and collaboration.
Our team is committed to creating a professional working environment for success and productivity. To create an optimal work environment, we want to preserve as much of the building as possible. Original flooring, exterior architecture and windows are just some elements that have been restored to maintain the rich history of the building. We hope that the renovation of NEWORK Space highlights the uniqueness of the building as well as display the rich culture within the town of Newark. We are proud to be part of the Newark community and hope that by preserving the NEWORK Space location, we will continue to build off the town's rich history.